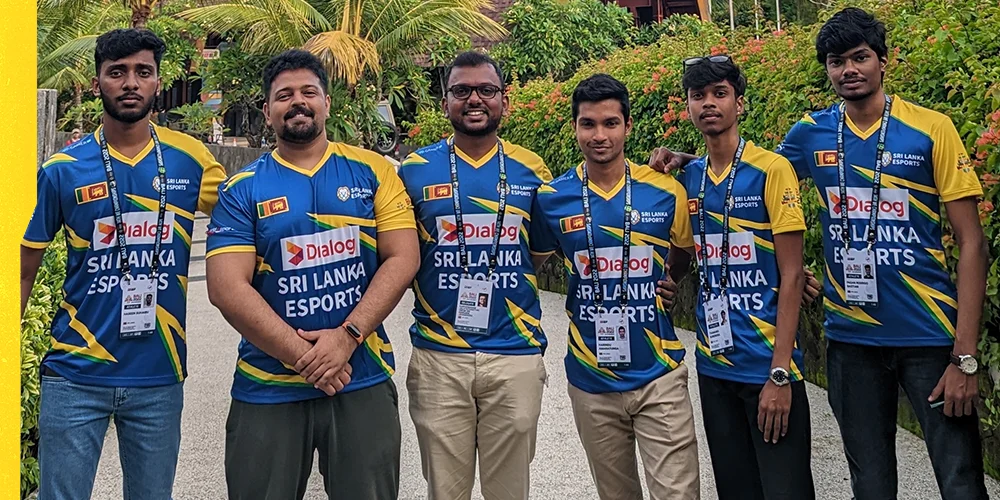 Sri Lanka's national Esports team for PUBG MOBILE qualified for the Grand Finals of the 14th World Esports Championships which were held recently. Sri Lanka's National Team travelled to Bali, Indonesia for the championship. The tournament included some of the world's best Esports athletes. Over 120 nations competed for a place in the Finals. The event included titles such as PUBG MOBILE, Dota 2, CS:GO, MLBB, Tekken 7, and eFootball 2023.
Mohammed Shihab Rizan represented Sri Lanka in eFootball 2023, and the four-member team for PUBG MOBILE consisted of Haseen 'Nrcxhaz3n' Suhaib, Thamara 'Susthy' Surendra, Pasan 'Doom' Rodrigo, and Harindu 'Amare' Amaratunga.
The PUBG MOBILE team consists entirely of players from team NRC, one of the most successful PUBG MOBILE teams in the country. They won the right to represent the nation by competing in the national qualifiers held last April. Before leaving the country, the team won another PUBG MOBILE event, carrying their winning momentum into the international competition. The squad was able to make it to the grand finals after a resilient display of skill and sportsmanship before ending their campaign at the knockout stage.
Mohammed Shihab Rizan is an eFootball pro. He played Pro Evolution Soccer (PES) for Sri Lanka in the Asian Games 2018 Regional Qualifier and he was the Sri Lankan flag bearer for last year's World Esports Championship opening ceremony competed against the best eFootball players in the world but did not succeed in making it to the finals.
Dialog Axiata PLC, Sri Lanka's premier connectivity provider, has been at the helm of uplifting Esports for over a decade by powering gaming competitions in Sri Lanka. In the recent past, Dialog's strategic partnership with SLESA has empowered the training and development of vital skills for avid local gamers and help bring structured Esports to all corners of the island. With the widest 4G coverage in Sri Lanka and constantly network optimisations, Dialog delivers on its commitment towards bridging the digital divide by enabling Esports to prosper in the rural peripheries of Sri Lanka. In the last 'Free Fire Tourney' organised by SLESA, the winning team emerged from the Moneragala district and was a testament to that commitment.
The Sri Lanka Esports Association was founded in 2010. The Ministry of Youth and Sports in Sri Lanka has recognized the association with its twelve member organisations as the regulating body for Esports in the country.
Gamer.LK, Sri Lanka's premier Esports company is the Strategic Partner for the National Esports Team. At the forefront of Sri Lanka's Esports industry, Gamer.LK's consistent efforts in organising Esports tournaments and activities have caused a rapid growth in Sri Lankan Esports over the last decade.