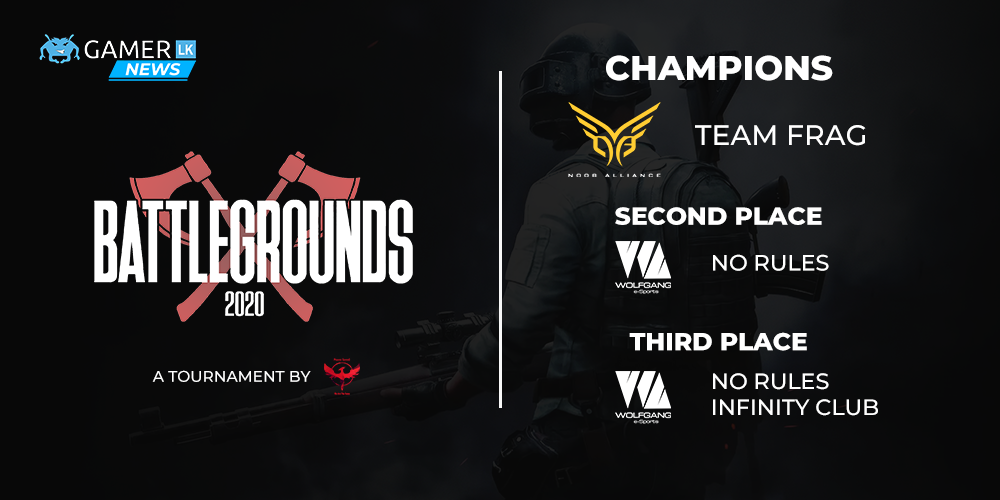 Battlegrounds 2020 hosted by Phoenix GaminG for the 2nd time this year featured the most famous and hyped mobile game title in the country PUBG Mobile. More than 50 teams have registered for the tournament with 240 players concluded on 22nd of March.

After a successfull PUBG Mobile tournament hosted by Phoenix GaminG (PnX), they had this to say;
Battlegrounds 2020 was the first PUBG Mobile tournament hosted by Phoenix GaminG after it was given ranked status. The tournament went smooth with teams from all the clans taking part. This wouldn't have happened without our referees who managed the matches and plan the schedules in a way so that teams could get enough break to strategize in between games. A special shout out goes to our streamer Rusiya who casted solo and streamed most of the group stage games and all the games in the finals. We would like to congratulate the winning teams and thank all the PUBG Mobile teams who took part for Battlegrounds 2020
Qualifiers of Battlegrounds 2020's PUBG Mobile ranked tournament kicked off on the 21st of March. Registered teams were divided into 4 groups randomly and best teams for finals were chosen with best of 3 rounds.
Top scored teams from each group were selected to Finals which happened on 22nd of March.
After a successful run in the Mobitel Esports Premier League for Noob Alliance's Team Frag they hold their nerves to prove they are the best team in Sri Lanka yet again by winning the Battlegrounds 2020's PUBG Mobile tournament.

Here's what Noob Alliance had to say on their team winning the Battlegrounds 2020's PUBG Mobile tournament
After being besides Team FRag since 2019, watching them going through the impossible challenges and hurdles they had to face, we are absolutely proud to see them finally achieving one of their main goals – consistent victories and establishing their name as a dominant force in the Sri Lankan PUBGM community. As Team FRag looks towards continuing this win streak, we wish them the best of luck. We have seen the response from the PUBGM community of Sri Lanka, and we will do everything we can, to ensure that our PUBGM teams participate in the international stages.
After another succesfull tournament for Team Frag, they had this to say on their strategies; 
Champions of AOD Battleground Yet Again another Title, The Finals were Intense as we always expect, it wasnt easy clinching all those points from the 6 maps – Our usual Strategies got into play and we tried to get an early WWCD and Maintain the top position but it didnt work out so well, So We were implementing our tactis and strategies trying to keep ourselves in the top 3 places so that we dont fall way back in the points table, We also figured by the end of the 4th match we will have to make up a different strategy in order to retain the table top, Our IGL FRagTauterr cooked up a quick Roles switch and Stradegy and we as a team were able to get a Chicken dinner in the Final Map and that got us to the top of the table emerging champions.
Sri Lanka's other two leading teams which is Wolfgang E-Sports' NO RULES and NO RULES INFINITY CLUB became runner-up and 2nd runner-up.
This is what Wolfgang E-Sports had to say about their experience playing the Battlegrounds 2020
11 Teams from Wolfgang e-Sports participated in the Battlegrounds 2020 tournament and gave everything they got with a nail biting performance. The hard work of the two teams finally paid off when two of our Wolfgang e-Sports teams, Team "NO RULES" achieved the Runners up in the tournament and "NO RULES INFINITY CLUB " 2nd Runner up in the tournament. We congratulate both teams in their future tournaments
Stay tuned with Gamer.LK for more updates.