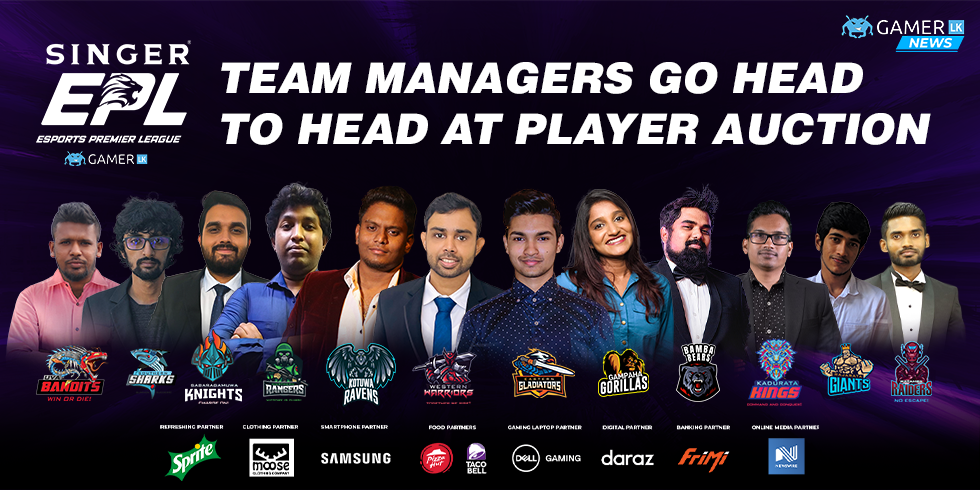 Singer Esports Premier League Player Auctions held on the 28th of September
6 hour livestream held to determine players for the 12 franchise teams
Playoffs for the Singer Esports Premier League began October 4th
Top 9 teams from the playoffs to move on to the super weekend
Super weekend begins today (Saturday, 9th October)
With the conclusion of the Qualifier Finals, Gamer.LK's Singer Esports Premier League '21 moved on to the Player Auctions phase, which was held on September 28th. Here the team managers of the 12 franchise teams, were in a bidding war to build their team with the best players they could acquire, without spending all their points. After the 6 hour Player Auction livestream, the team compositions were as follows:
Franchise Teams and Players for the Singer Esports Premier League '21
Bamba Bears (Team Manager – Gayan De Silva)
– Dulara 'BTXSCOUT' De Silva
– Mohamed 'GAMEOVRRAZZZ' Razly
– Supuni 'GRLSUPU' Ravindya
– Muhammad 'HOPE M' Nabeel
– Sadurshan 'HOPEPUREAIM' Sarvana
– Nishel 'IM GTBUSTER' Silva
– Puvanenthiran 'MAFIA ROCKY' Niluxshan
Eastern Gladiators (Team Manager – Harindu Amaratunga)
– Seiyed 'XCHELCURT' Hamza
– Azahi 'AZAHI LEO' Munaf
– Tharaka 'DEXTER' Lakshan
– Samitha 'FN1 HORSE' Thiwanka
– YAEESH 'SL YAIYA' Thamkeen
– Sharan 'JIGSAW' Imamdeen
– Nadeem 'NOXXY' Nishaam
Gampaha Gorillas (Team Manager – Nadeeshani Jayasinghe)
– Raveen 'SATANTR' Shavinda
– Umair 'Punisher' Sufiyan
– Dulisha 'DADDY' Akalanka
– Mohamed 'GODV' Manazir
– Prekash 'SATOSHI' Jeewarathnam
– Achintha 'BISHOPP' Methsara
– Mohamed 'RASHATH' Rashath
Kandurata Kings (Team Manager – Navod Bopitiya)
– Riham 'TAUTER' Ramzi
– Sahan 'MCKAY' Jayasuriya
– Mohamed 'Anza' Ansaf
– Rishad 'RIO' ahamed
– Anushger 'KP' Sivabalan
– Disura 'ZUES' Yasanjith
Kotuwa Ravens (Team Manager – Lahiru Herath)
– Tharusha 'THOR' Nethsara
– Reshan 'RÉSHA' kavishka
– Avishka 'FOURARMS' Srihan
– Shahran 'SHAZ' ahamed
– Alex 'ALEX1337' Fernando
– Thavindu 'THAVI' Theekshana
– Zainy 'DUMBY' Jabir
Northern Rangers (Team Manager – Sajith Wijesiri)
– Shaid 'SHAY' Ahmed
– Kamash 'GODZYYY' Gunasekera
– Chamuditha 'LUCIFER' Watshan
– Fahaadh 'BEE' Sirajudeen
– Chamalka 'PANDAA' Gunawardhana
– Mohamed 'TIKTOK' Zahid
– Rizly 'RIZO' Ahzn
Rajarata Giants (Team Manager – Tharindu Wijesinghe)
– Vishwa 'VISH' Adeepa
– Sandil 'VISKY' Bandara
– George 'FRAGGER' Pereira
– Akmal 'CREEZY' Jeslin
– Mohamed 'VENOM' Amanullah
– Pawan 'RAPTOR' Senanayake
– Mohammed 'Minator' Rizan
Sabaragamuwa Knights (Team Manager – Prageeth Dassanayake)
– Dilisha 'DEXSTER' Weerasingha
– Ramesh 'JIMMY' Fernando
– Mohamed 'SHAAE' Shahaan
– Ashwin 'Azzwin' wickramaarachchi
– Kavinda 'TWEAK' Chenuka
– Amanulla 'Amaan ' Unais
– Dilki 'BABYDOLL' Ranasinghe
Southern Sharks (Team Manager – Kasun Wijesekara)
– Dinuka 'REXTER RF' Himansha
– Samith 'SAMITHA' Madushanka
– Ijas 'Jay' Mohammed
– Amru 'BLAZE' Zamzam
– Anton 'SANTA' Fernando
– Buwaneka 'BUWA' Buddima
UVA Bandits (Team Manager – Kamith Gajanayaka)
– Nadeesh 'IRON' De Silva
– Shamal 'KILZ' Kaushan
– Gaveshkaa 'ROOT' Lakshan
– Shaveen 'GRUMPY' Illukpitiya
– Akeel 'CHARLIE' Ramzeen
– Sanjana 'NOIZY' Rathnayake
– Maristan 'MARISTOP' Stekan
Wayamba Raiders (Team Manager – Safwan Mansoor)
– Ranithu 'ERRORBAE' Senevirathne
– Tharindu 'Mamatha' induwara
– Chamika 'IMT NIKY' Rasangi
– Kavinda 'KAVI' Silva
– Zaid 'BAYMAX' Zaharan
– Ushan 'JUDA' Sankalpa
– Udesh 'KAVIYA' Kavindu
Western Warriors (Team Manager – Janith Rajapakse)
– Merash 'MERASH' Chnuka
– Pasan 'ZEUS' Chamathka
– Rizny 'RAZOR' Azmy
– Shalika 'ROMAN' Chamoth
– Sandakelum 'Kelum' Ranasighe
After the player auctions, the teams headed into the playoffs, where the top 9 teams would move into the super weekend and the final phase of the Singer Esports Premier League. From the 12 teams, the 9 teams which made it through to the super weekend were; Eastern Gladiators, Western Warriors, UVA Bandits, Southern Sharks, Gampaha Gorillas, Rajarata Giants, Kotuwa Ravens, Northern Rangers and the Wayamba Raiders. The super weekend begins today (Saturday, 9th October) from 3pm onwards
EPL is sponsored by
Title Partner Singer Sri Lanka
Refreshing partner Sprite
Clothing partner Moose Clothing Company
Smartphone partner Samsung
Food partners Pizza Hut Sri Lanka & Taco Bell Sri Lanka
Gaming Laptop partner Dell
Digital Partner Daraz Online Shopping
Banking partner FriMi
Online media partner NewsWire
Be sure to stay tuned to Gamer.LK's website and social media for updates regarding the Singer Esports Premier League '21 and other Esports news.