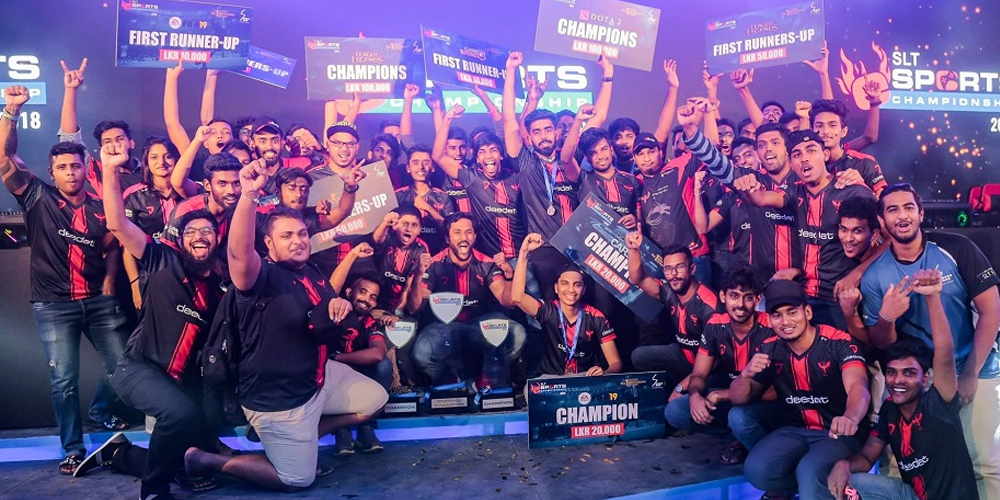 SLT e-Sports Championship 2018, the Esports event with the largest prize pool in the country, organised by Sri Lanka's premier telecommunication provider Sri Lanka Telecom (SLT) in partnership with the Esports Partner, Gamer.LK, returned for its fourth consecutive year on the 2nd, 3rd and 4th of November at BMICH, alongside the INFOTEL 2018 exhibition.
This year's event saw record numbers of participation with Esports athletes taking part from across the country making the event a platform for bringing communities together. Phoenix Gaming emerged the overall Champions, with Noob Alliance coming in close as runners-up and Xiphos Esports coming in at third place.
With a prize pool of over a million rupees in cash, this year's Championship featured many popular online multiplayer gaming titles such as Call of Duty 4: Modern Warfare, Counter Strike: Global Offensive, Dota 2 and League of Legends as well as single player titles such as FIFA 19, Project CARS 2, Injustice 2 and Fortnite with mobile game titles, Clash Royale and PlayerUnknown's Battlegrounds Mobile also included. With Sri Lanka's first multi-camera production at an Esports event, this year's Championship kicked off with matches being broadcast on the giant screen at the venue with a livestream also being broadcast on Facebook, Twitch, YouTube and Mixer for viewers who were not at the venue.
An Esports awareness area, equipped with facilities and demonstrations to educate visitors and newcomers to the event about Esports and its benefits, was showcased at this year's event with careful attention being paid on the overall spectator experience. A dedicated mobile games arena was also setup at the venue in addition to the professional Esports arena where Esports athletes battled it out for 3 days. A Women's Championship which saw the participation of many female Esports/ athletes was also held as well as a new Under 12 Kids segment being introduced as a new addition to this year's event. SLT also held a Cosplay competition alongside the event, encouraging cosplayers to dress up as their favourite characters.
SLT also teased the launch of a mobile game development competition aimed at showcasing groundbreaking innovations and new trends in the mobile entertainment industry. Applicants will be able to enroll for the competition, for either Android or iOS mobile game applications, after it is launched in the near future.
SLT also launched their exclusive SLT eSports platform to the online gamers of Sri Lanka at the Championship, making SLT the first operator in South Asia to launch such a service. The launch was well-received by gamers who appreciate the efforts taken by SLT to improve their Esports experience.
SLT is no stranger to the Sri Lankan Esports scene as they have continued to empower Esports in the country since the inaugural SLT Esports Championship in 2015. which became an instant success. This year marked the initiation of new types of Esports events presented by SLT, held across different formats and regions of the country and aimed at promoting Esports and strengthening the SLT brand offering to the youth segment. The successful completion of the SLT Esports Championship 2018 marks the end of the Esports activities for this year.
The SLT e-Sports Championship was played on a network backbone powered exclusively by Sri Lanka's Number 1 broadband network – SLT Broadband, famous for its low latency, dedicated and reliable connectivity which is compulsory for Esports and gaming. Showcasing speeds of over 100Mbps and optimized packet routing paths, gamers received an unparalleled broadband experience at the event.
To stay tuned to all the information about SLT Esports and find out more details about the event, visit www.slt.lk/esports.
The winners of the titles at SLT Esports Championship 2018 are:
Under 12 Championship – Subway Surfers
1st
Shakya Sansidu (Noob Alliance)
2nd
Rivindu de Silva (Standalone)
3rd
Suvi de Silva (Standalone)
Under 12 Championship – Fruit Ninja
1st
Sherim Salahudeen (Standalone)
2nd
Suhail (Standalone)
3rd
Shakya Sansidu (Noob Alliance)
SLT Speedup Savariya (SLT title)
1st
Mekhala Upamali (Standalone)
2nd
Janith de Silva (Standalone)
3rd
Ketheka (Standalone)
Zooxanthale (SLT title)
1st
Ruvin 'Ghost' Kularathne (Noob Alliance)
2nd
NIDU Gz (Standalone)
3rd
Buddhika (Standalone)
Womens Championship – Mario Kart
1st
Himasha 'HiMA' Perera (Noob Alliance)
2nd
Kavindee 'Vinky' Kariyawasam (Noob Alliance)
3rd
Tharaki 'Ivy' Wackwella (Noob Alliance)
Womens Championship – Mortal Kombat XL
1st
Udara 'Orthopara' Wickramarathne (Standalone)
2nd
Himasha 'HiMA' Perera (Noob Alliance)
3rd
Tharaki 'Ivy' Wackwella (Noob Alliance)
Womens Championship – Need for Speed:Most Wanted
1st
Himasha 'HiMA' Perera (Noob Alliance)
2nd
Zahra '[N]erd' Thajudeen (Phoenix Gaming)
3rd
Tharushi 'MissDetective' Liyanage (Maximum eSports)
PUBG Mobile
1st
Div 'DS' Deviiii' Alwis (Maximum eSports)

Kavindu 'Kavindu2' Prabashwara (Maximum eSports)

2nd
Rojer 'DarkAssassinRJ' Chandana (Standalone)

Prince 'Prince1999221' Dinakara (Standalone)

3rd
Veivesh 'IGN BijiliV' Krishnakumar (Standalone)

Seyed 'Monsterrol' Basim (Standalone)

Fortnite
1st
Dan 'Lethal' Warakagoda (Division)
2nd
Thenuka 'tc.moon' Dharmarathna (Division)
3rd
Rehan 'REZBY' Fernando (Phoenix Gaming)
Clash Royale
1st
Joel 'daniel' Joung (Noob Alliance)
2nd
Parthi 'Parthifan' (Phoenix Gaming)
3rd
Rajith 'rN'b' Nipuna (Noob Alliance)
Injustice 2
1st
Umashankar "RedWire" Raja (Xiphos Esports)
2nd
Praveen "ZOMBI3" Jeganadan (Xiphos Esports)
3rd
Dinusha "Veko_Stan" Cooray (Xiphos Esports)
Project Cars
1st
Ryan 'LokDown' Perera (Phoenix Gaming)
2nd
Vihanga "B.O.O.M" Poorna
3rd
Rashad 'RaSSyCZaR' Ameer
FIFA 19
1st
Afdhal Muvaffik (Phoenix Gaming)
2nd
Arkam Iqbal (Phoenix Gaming)
3rd
Fawzan 'Fz' Nazir (Phoenix Gaming)
League of Legends
1st
Team PnX|Lankan Lions (Phoenix Gaming)

– Shalitha Chandraratne

– Ashik Saleeth

– Hilal Jismy

– Achintha Konara

– Sajitha Suranjana

– Abith Latiff

2nd
Team PnX|MeMe Masters (Phoenix Gaming)

– Tharinda de Silva

– Sajid Moulana

– Rizlan Affridhy

– Anjana Amarasinghe

– Akthar Hafeez

– Ashivhar Mugunthan

– Bhanuka Rathnayake

3rd
Team PnX|ReD (Phoenix Gaming)

– Kasun Withanage

– Sheran

– Rihan

– AAdil

– Nishal

Counter Strike: Global Offensive
1st
Team Xiphos CSGO (Xiphos Esports)

– Geeshan Jayaraj

– Omal Prabuddha

– Zayyan Ali

– Sanjeevan Kalaieesan

– Shakir Razak

– Hiran Erangana

2nd
Team PnX|Heroes eSports (Phoenix Gaming)

– Andrew Damien

– Raqeeb Marzook

– Kavishkar Jayaraj

– Aslam Rahman

– Muzakkir Fahim

– Aaron Mark

3rd
Team R16 (Standalone)

– Zahid Ameer

– Seyed Basim

– Isfak Ibrahim

– Kisho

– Miqdhad Afzal

DOTA 2
1st
Team PnX| Indomitus (Phoenix Gaming)

– Mohammed Walid

– Mohammed Shafraz

– Haneef Shiraz

– Munthasir Shiraz

– Viren

2nd
Team x3|Victorious Secret (Xiphos Esports)

– Mandula Sugathapala

– Isuru Lokuge

– Kevin Dashitha

– Shauban Rushdi

– Kaveesha Kangasuru

– Kalhara Keith

3rd
Team Div|Death Sentence (Division)

– Mukshith Ajwath

– Shenal Daniel

– Anupama Wettasinghe

– Heshan Sanjaya

– Kalindu Keith

– Mandula

Call of Duty 4: Modern Warfare
1st
Team nA|Spite (Noob Alliance)

– Sameera Vidushanka

– Ruvin Kularathna

– Sasitha Weerathunga

– Isuru Abykoon

– Eranda Madhushan

– Tharindu Yapa

2nd
Team TM|zU (Tech Morph)

– Dinuwan Fernando

– Sachith Nishakara

– Isuru Herath

– Thiyanjana Janithashan

– Thilinda Chamal

– Dinuka Lakshan

3rd
Team nA|Archon (Noob Alliance)

– Harry Manoharan

– Mohammed Zaid

– Nisal Jayasundara

– Vishal Perera

– Abdulla Lafir

– Lahiru Gayan