Back for its seventh edition, registrations for Gamer.LK's Inter-University Esports Championship (IUEC) 2022 powered by SLT-MOBITEL will be held entirely online, allowing students from any university or local education institute in Sri Lanka to compete in what is considered one of the biggest sporting events in the country.
The event features 18 of Sri Lanka's favorite video game titles spanning mobile, PC and console. University students from across the country will be able to participate. The featured titles are:
Team Titles
Arena of Valor – Mobile 5v5
Call of Duty 4- PC 5v5
Call of Duty Mobile – Mobile 5v5
Dota 2 – PC 5v5
League of Legends – PC 5v5
Mobile Legends – Mobile 5v5
Rainbow 6 – PC 5v5
Valorant – PC 5v5
Individual Titles
Assetto Corsa (Racing) – PC
Call of Duty Mobile – Mobile BR
Call of Duty Warzone – PC Solo/BR
Clash Royale – Mobile 1v1
FIFA 21 – PS4/PS5 1v1
Free Fire – Mobile Solo/BR
Mario Kart Tour (Racing) – Mobile
PUBG MOBILE – Mobile Solo/BR
Real Cricket – Mobile 1v1
Rocket League – PC 1v1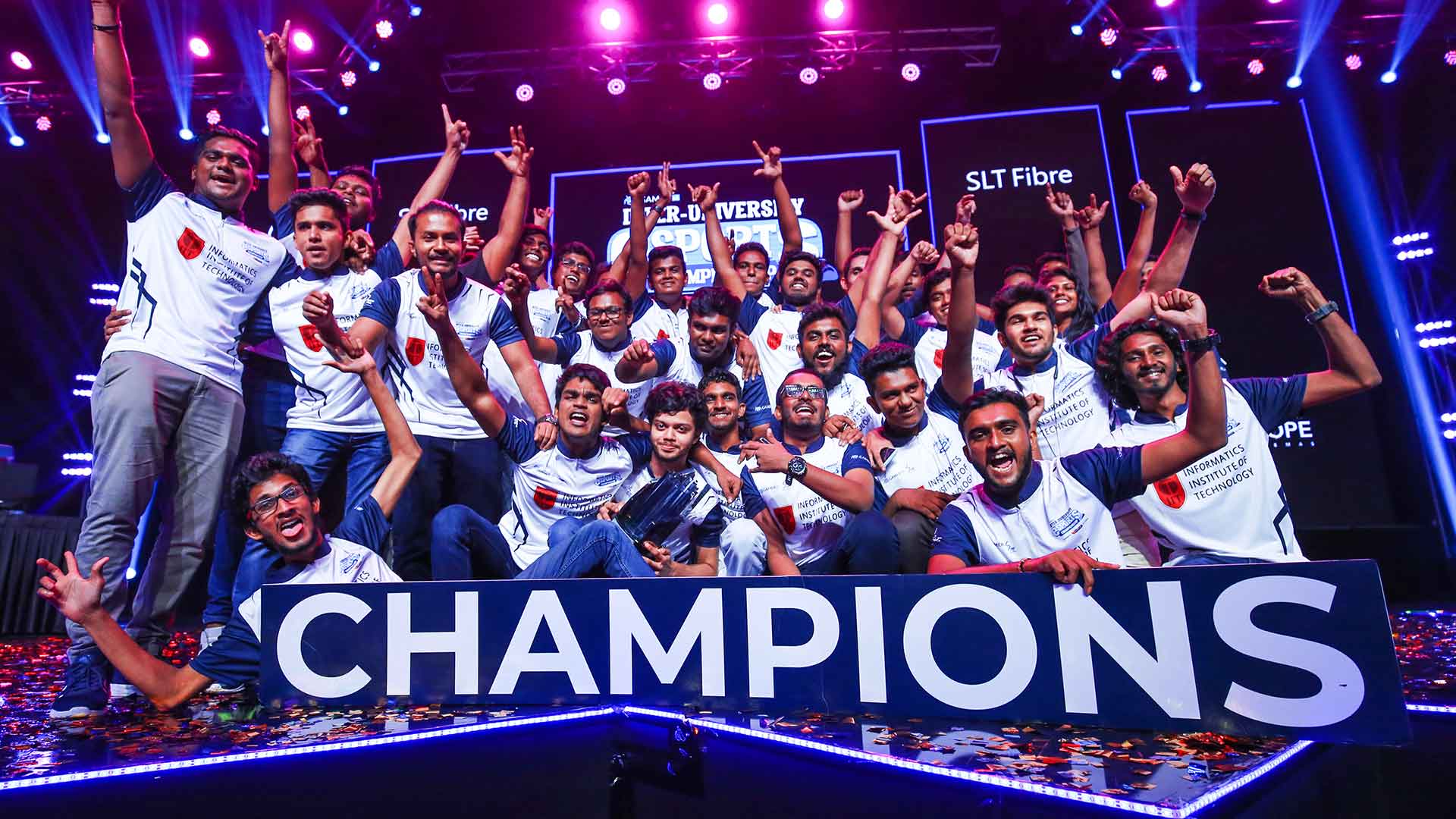 PREVIOUS WINNERS OF THE INTER-UNIVERSITY ESPORTS CHAMPIONSHIP:
2021 – University of Moratuwa (UoM)
2020 – National School of Business Management (NSBM)
2019 – Informatics Institute of Technology (IIT)
2018 – Sri Lanka Institute of Information Technology (SLIIT)
2017 – International College of Business & Technology (ICBT)
2016 – Asia Pacific Institute of Information Technology (APIIT)

TOP 5 FROM THE 2021 CHAMPIONSHIP:
| | | | |
| --- | --- | --- | --- |
| University | Gold Medals | Silver Medals | Bronze Medals |
| University of Moratuwa | 3 | 2 | 0 |
| National School of Business Management (NSBM) | 3 | 1 | 2 |
| Informatics Institute of Technology (IIT) | 2 | 0 | 2 |
| Sri Lanka Institute of Information Technology (SLIIT) | 1 | 3 | 2 |
| General Sir John Kothalawala Defence University | 1 | 1 | 2 |
In 2020, the Championship first moved to a completely online setting and has continued online ever since and the results showed a significant increase in the popularity of Esports throughout the country on a varsity level.
With Sri Lanka on lockdown and physical events canceled, Esports is stronger than ever owing to its remote accessibility. Esports has already seen a surge in involvement and interest in Sri Lanka, in line with the social distance required to negate COVID-19's spread, which explains why the growth was so exponential in a year where nothing else happened in a competitive or physical game-related environment.
The Inter-University Esports Championship set a new benchmark for university-level sporting events in Sri Lanka each year and last year had 50+ universities taking part and over 1100 participants registered for the event. This was a trending topic for the period of game week as the cumulative social media reach for the coverage of the event reached about 2.1 million. These are statistics that could stand toe-to-toe with sports like cricket and rugby, which are historically popular sports in the country. It also shows a growing interest that is in line with the global attitude towards gaming and its consideration as a sport.
This year's Championship is powered by SLT-MOBITEL, the National ICT Solutions Provider who comes onboard as the title partner. SLT-MOBITEL has been at the forefront of empowering digital entertainment and Esports in Sri Lanka with product offerings catering to gamers in the country.
ViewSonic Gaming is the Official Gaming Monitor of this year's Championship. ViewSonic, a world-renowned brand with a stellar reputation in the consumer, business and professional monitor markets has introduced its gaming product line; ViewSonic Gaming to Sri Lanka catering to both casual gamers and hardcore Esports athletes alike.
Registrations for the Championship are completely free of charge and open on the InGame Esports platform at https://ingame.gg/event/inter-university-esports-championship-22. Universities are signing up for the tournament that will commence on the 30th of September 2022.
Registrations close on the 23rd of September 2022.
More information about the Championship can be found at https://university.gamer.lk.