Metropolitan Computers (Pvt) Ltd, the premier IT retailer for the world's best brands launched the latest Acer lineup of products powered by Intel Optane Memory for the first time in Sri Lanka. The authorized distributor for Acer computers in Sri Lanka, Metropolitan Computers continues to make its mark in Sri Lanka's technology landscape, and this is another milestone in its efforts.
At the launch, Marketing Director of Acer introduced the newest updates to their popular Predator series which is focused on high performance gaming, and the refreshed features of the Nitro series of laptops in the form of the Nitro 5. A large gathering including partners and customers from across the country participated at the occasion.
One of the highlight of the new product range was the inbuilt the Intel Optane Memory. Intel Optane Memory offers an unprecedented combination of high-capacity and persistence. By moving and maintaining larger amounts of data closer to the processor, workloads and services can be optimized to reduce latencies and enhance performance. Intel Optane Memory lets you accelerate your game by allowing launch and level-loading at unprecedented speeds – without the usual speed bumps. Whether you're blasting through hyperspace or filing the lane on a fast break, you'll enjoy a smooth, rich gaming experience, with less lag time and reduced performance bottlenecks. In addition, it learns the tasks you perform most frequently from system startup to file search, to program launch and steps on the gas to give you the extra boost you need.
These latest Acer products are available at any Metropolitan Mcenter showroom where you can fulfill all your IT requirements along with the world's best brands. Backed by 60 years of Metropolitan trust, Metropolitan Mcenter showrooms are available island-wide with supportive staff and team, ready to educate on any product with reliable technical assistance at the showrooms itself.
The centerpiece of the gaming range was the Predator Orion 9000, which is a pre-built desktop with specs that can only be described as overkill; a GTX 1080 Ti with 11 GB of vram, 32 gigabytes of RAM, a 512 GB SSD with an added capacity of a 3 TB hard disk and an i9 7900X sitting at the heart of the computer for heavy content creation focused applications during gaming.
The Predator Orion 5000 was also introduced, with specs more in line with mainstream gaming requirements; a GTX 1070 Ti with 8 GB of vram, a 256 GB SSD with an added 1 TB of hard disk storage, 16 gigabytes of RAM and a i7 8700k to power it all. All in all this build is more likely to be popular as it will be more cost effective than the aforementioned 9000 series, while still being able to run any games released in the next few years at maxed out or near maxed out settings.
The Predator Helios 500 gaming laptop, which packs a powerful punch in a more compact form factor; consisting of a GTX 1070 with 8 GB of vram, 32 gigabytes of RAM, a 512GB SSD with an added 2 TB of hard disk storage, all capped by an i9-8950HK into a 15.6" thin body. This laptop, unlike most, makes no tradeoff between performance and portability, offering a desktop level gaming experience on the go.
The Nitro 5, a more lightweight laptop geared towards lighter gaming, consisting of a GTX 1050 with 4GB vram, 8 GB of RAM, 128 GB SSD with an added 1 TB of hard disk storage, all being powered by an i7-8750H processor, packed into a 15.6" thin body. While this laptop isn't as powerful as the flagship Helios 500, it will still deliver adequate performance with it's GTX 1050 and i7 processor. Staying true to its core, Acer continues to deliver lifestyle products to suit your profession, image and requirements in life.
All these Acer systems will come with a copy of Windows 10 preinstalled and two years warranty on the systems. In addition, the Orion 5000 and 9000 comes with DVD-RW drives equipped as well.
Two monitors were also unveiled at the launch; the XZ350CU and the XR382CQK.
Of the two, the more mainstream is the XZ350CU, which is a massive 35" curved ultra-widescreen display with a resolution of 2560x1080 with the added benefit of a ultra-smooth refresh rate of 200Hz. Combined with DTS Sound, multitasking and great design, this monitor is worthy of the most advanced gaming setups. The monitor also has the following I/O: HDMI (v2.0) + HDMI (v1.4)/MHL (v2.0) + DisplayPort (v1.2) + DisplayPort out (v1.2) + USB Hub 3.0x4 (1up 4down) + Speaker. This monitor also supports FreeSync, which will allow smoother gameplay on AMD cards.
The XR382CQK is a 37.5" UltraWide QHD resolution curved widescreen display, with the latest Adaptive-Sync technology offering stutter-free and tear-free gaming and DTS® Sound speakers to amp up the audio. Boasting of a maximum resolution of 3440 x 1600 and a modest standard refresh rate of 75Hz, the monitor sports a curved UltraWide QHD display with ColorPlus technology, including 100% sRGB gamut and 6-axis color adjustment for a perfect picture. IPS1 technology lets you see clearly from nearly any angle. This monitor is more geared towards content creators, but it does have the benefit of FreeSync which will pair very well with AMD cards. The monitor also has the following I/O:HDMI (v2.0) + MHL (v2.1) + DP + mini DP + DP out + Audio out + USB Hub 3.0x4 (1up 4down) + Speaker.
In addition, Acer has introduced new models to its Swift, Spin and Switch lineup of thin & light series of devices as well.
With the continued introduction of cutting edge, innovative yet affordable products Metropolitan Computer's re-emphasize its leading role in the industry and helps demonstrate its commitment to the market while maintaining a successful long term relationship with all dealers.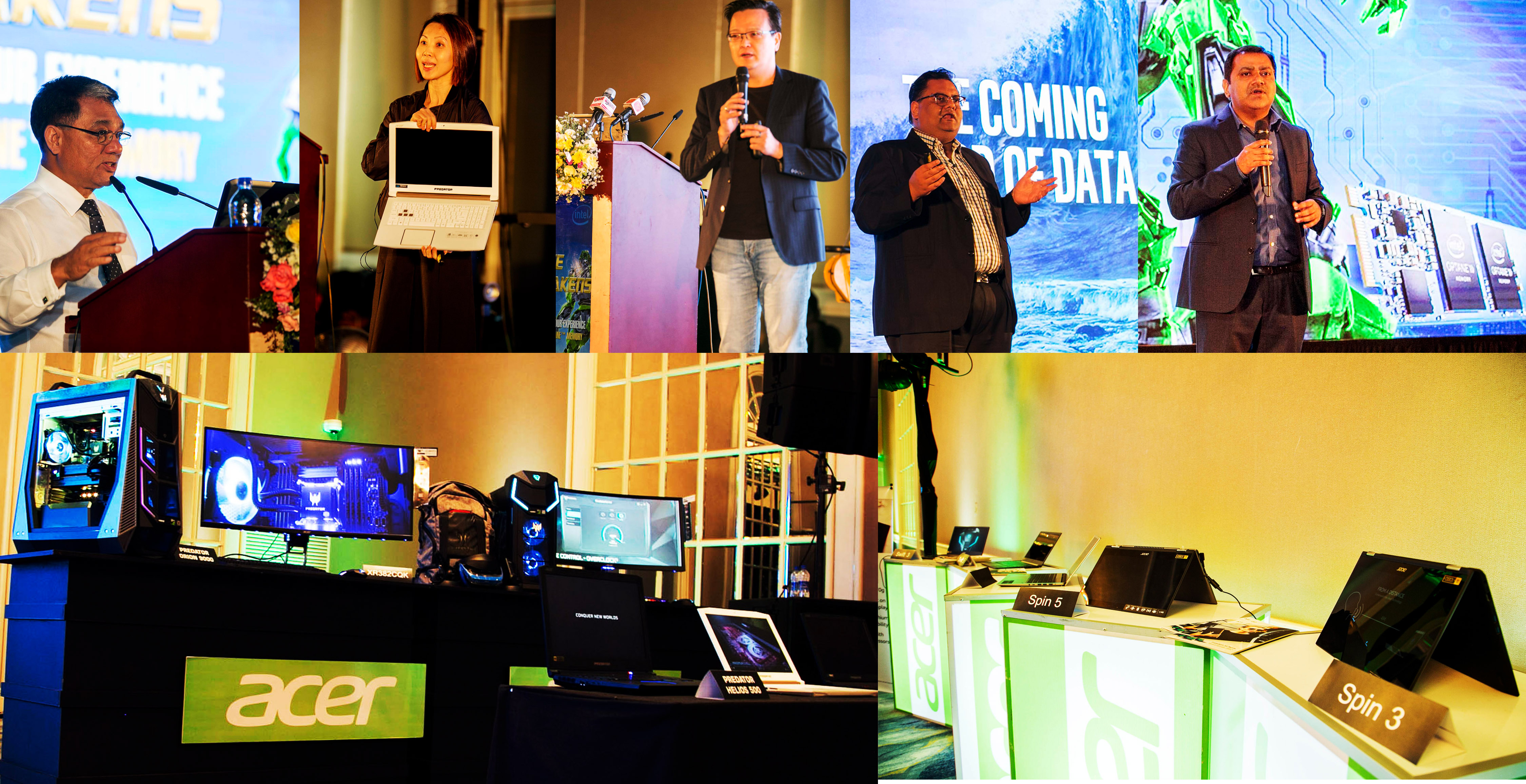 CAPTION
From Left to right
Mr. Ivor Maharoof- Managing Director –Metropolitan Group
Ms. Li Shi Chia– Marketing Director – Acer Singapore
Mr. Andrew Hou – President of Acer Pan Asia Pacific regional Operations.
Mr. Saumitra Rai- Head of Sales , South Asia, Australia, New Zealand, Japan and Korea for Intel
Mr. Sunil Nair – General Manager – Sales , Acer Singapore