Coming from Peradeniya, Kandy, Amruth "Amypie" Alfred represented Sri Lanka in Starcraft 2 at the Asian Games 2018 and is an Esport athlete. Amruth is also an alumnus of Gateway College Kandy, and is currently following an MPhil in Astrophysics at the University of Hong Kong, where he completed his BSc in Physics and Astronomy with Second Upper Honours.
This is Amruth's story of his Esports journey.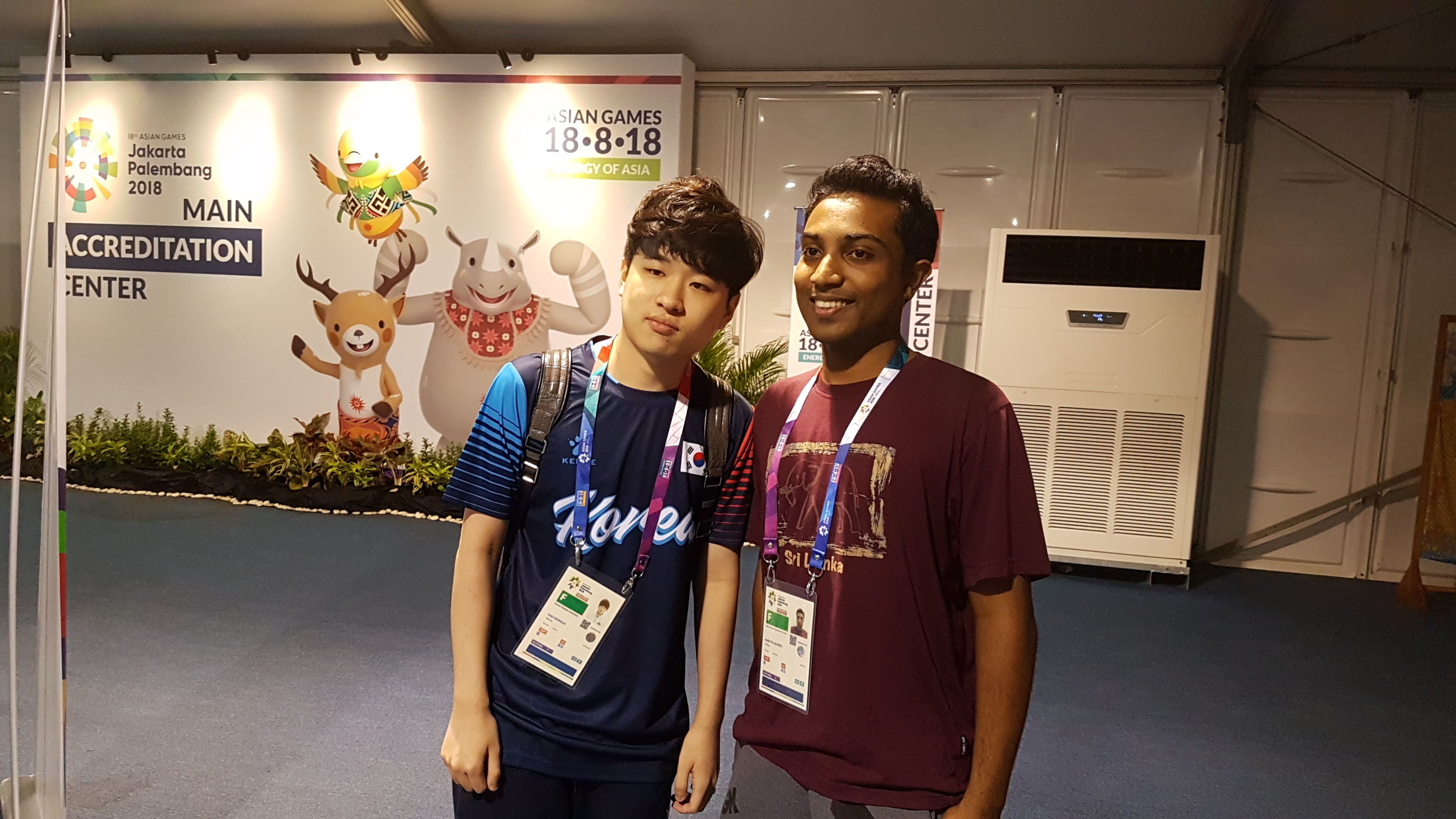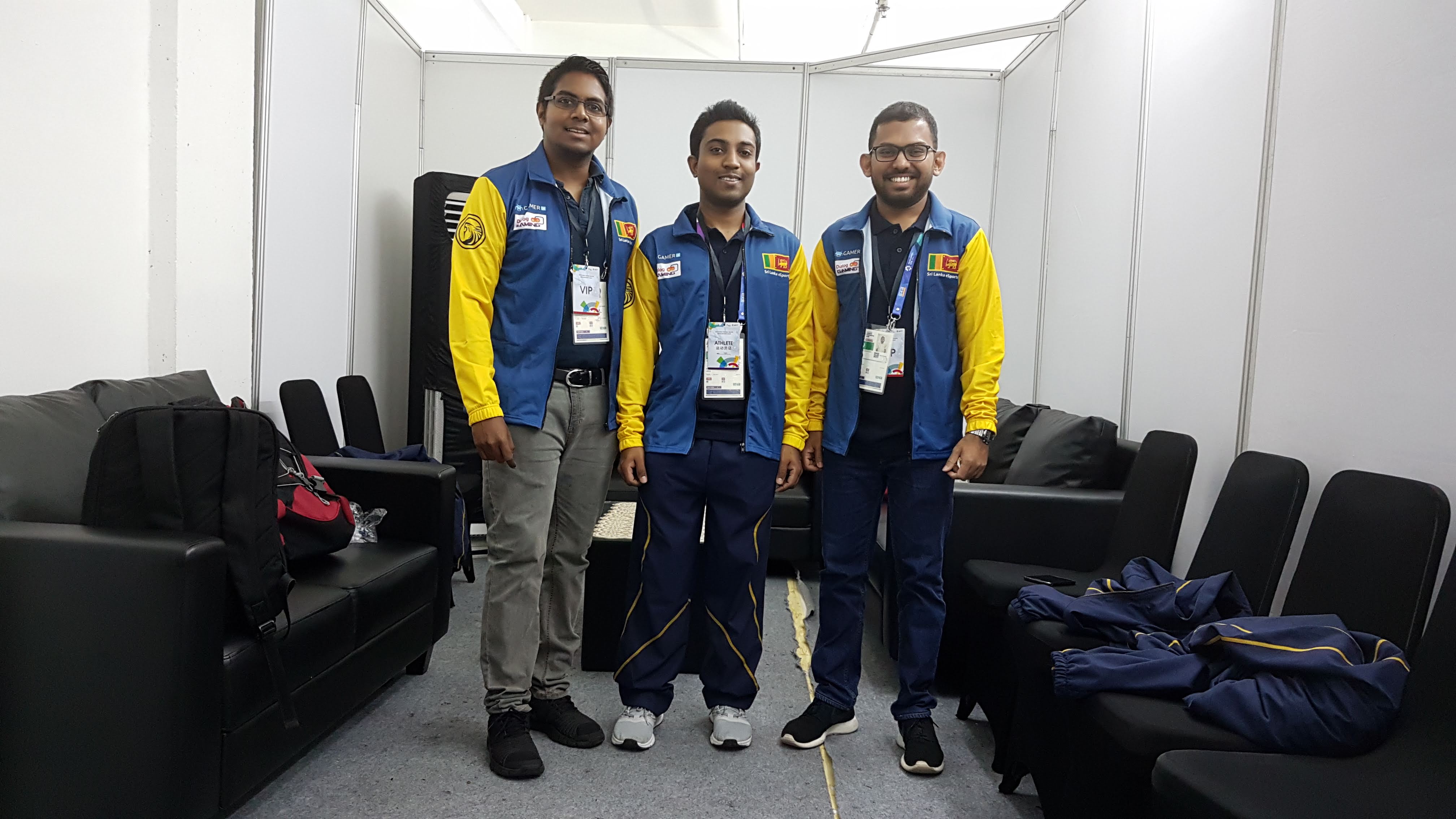 While Amruth does hail from Kandy, he briefly lived in India during his childhood as his father was undertaking his Postgraduate research. It was during this period that he discovered PC gaming.
While meddling with his father's PhD desktop, a Pentium 1 running Windows 95, he stumbled upon a copy of Need for Speed 2. Awed by the exotic cars, the driving experience, and the foreign roads, He was instantly hooked and thus opened the gate to PC gaming. Quickly turning into a fully-fledged, after-school past time, Amruth was discovering all sorts of games to indulge in.
With Pokémon becoming a mainstream series in Asia, he soon installed a Gameboy emulator and spent countless hours catching and training all sorts of Pokémon he says. Upon being introduced to the Age of Empire series, he soon realized how much more he enjoys games that required real-time strategy and developed a taste for games that had a competitive component to them.
While most parents would discourage their children from spending too much time in front of the computer, Amruth's parents were more supportive of his gaming habits. Striking a good balance between gaming and his studies, he managed to stay at the top of his class and score well consistently. His parents even went as far to gift him a personal Pentium 4 PC to keep up with the current gaming generation. He was however, met with criticism from his extended family and schoolmates who had bought into the stereotype that gaming is a waste of time.
Fast forward to 2007 and Amruth got his first taste of online multiplayer gaming. Only 12 at the time, he was introduced to Call of Duty 4 by his school friends and soon started prioritizing the game above other games due to its competitive nature. Being a frequent player and fiercely competitive on the public servers, he soon began making a name for himself under the moniker "Thunder ".
He hilariously adds that he has had moments with his parents where he tried to explain to them that he can't pause a match during dinner time. Catching the eyes of competitive COD4 players, he was approached by [DC] Grim and was flat out asked to join his team DC.XD on the public servers all chat. Recruited by Death Company, he soon began his ascent in competitive Esports. With frequent team practices, Leagues by Gamer.LK and scrims with other teams, Thunder began picking up more experience and started to shine as the prodigy of the team. With their new found chemistry, he would soon begin frequenting LAN events with the team in Kandy. Being the 12 year old kid on the team, "Thunder" was frequently babysat by his team mate Aasaf Samoo.
"He used to come to my house, pick me up and take me to the café!
I was like a little boy and he was like my uncle! ".
As the team began steadily rising in the COD4 community, DC.XD made its way to their first SLCG in 2009. The team progressed well into the tournament and won games that many thought they would lose, with Thunder being the MVP and carrying his team to victory. While the favourites "Team Perks" did go onto win that years SLCG, DC.XD placed high and it was quite a learning experience for Thunder. As the years went by, Thunder would frequent many tournaments with his team and would go onto win a good share of them. But, with O/L and A/L exams soon approaching, Amruth started paying more attention to his studies and took a break from competitive tournaments. As a throwback to the days he spent playing Need For Speed 2, Amruth has also held the title as the national champion for Trackmania, won season 3 of Gamer.LK's Racing League and won the Need for Speed – Most Wanted Kandy leg in the past.
With 2014 being his last SLCG, Amruth would soon depart to the University of Hong Kong to start his undergraduate degree in Physics and Astronomy with a fully paid scholarship.
With course work taking precedence, competitive gaming was in the back seat.
But soon enough, he would find himself being sucked into playing a whole new game. Having played DotA, and COD4 reaching the end of its competitive status, Amruth started to casually pick up DotA 2. As DotA 2 progressed into an international phenomenon, Amruth found himself playing more and more competitive DotA 2 online, taking part in multiple Gamer.LK Leagues under the alias "Amypie" and progressing well into the tournament standings.
"Thing about DotA 2 is that it's constantly evolving, the meta keeps shifting. With routine patches and balance updates, Icefrog keeps the game fresh. Really makes it hard to not play the game"
Making a return to his First Person Shooter roots, Amruth also picked up and excelled at Overwatch.
Playing for x3.Evangelion, he and his team made it 3 matches into the tournament at this years Gamer.LK Overwatch League.
" What I really like about Overwatch is the diversity of the game. While traditional FPS games are mostly about mechanical skill,
Overwatch rewards game sense, strategy and team work just as much "
Frequently seen playing Overwatch on battlenet, Amruth's friend's convinced him to try Starcraft 2.
Initially put off by the massive download size and no one to play it with, it was a calling for him to finally try a real-time strategy game with a multiplayer component.
"I really like 1 v 1 games, because it just depends on you. Your skill determines if you win or lose "
Steadily progressing with the game and watching pro twitch streams, Amruth climbed to the top of the Sri Lankan Starcraft 2 leaderboard within 2 months of picking up the game. Winning 2 weekend tournaments, he soon caught the attention of Gamer.LK and was chosen to represent Sri Lanka in the regional qualifiers of the Asian Games 2018. Having bested other players from the region, Amruth secured his spot at the Asian Games 2018. Making his way to Jakarta, Indonesia with his girlfriend to cheer him on, he was stoked.
He would go on to meet a swift defeat at the hands of Taiwan's "Nice" who went on to win Silver, behind Korea's "Maru" who won gold – An experience of a lifetime for Amruth and just the beginning to a whole new journey.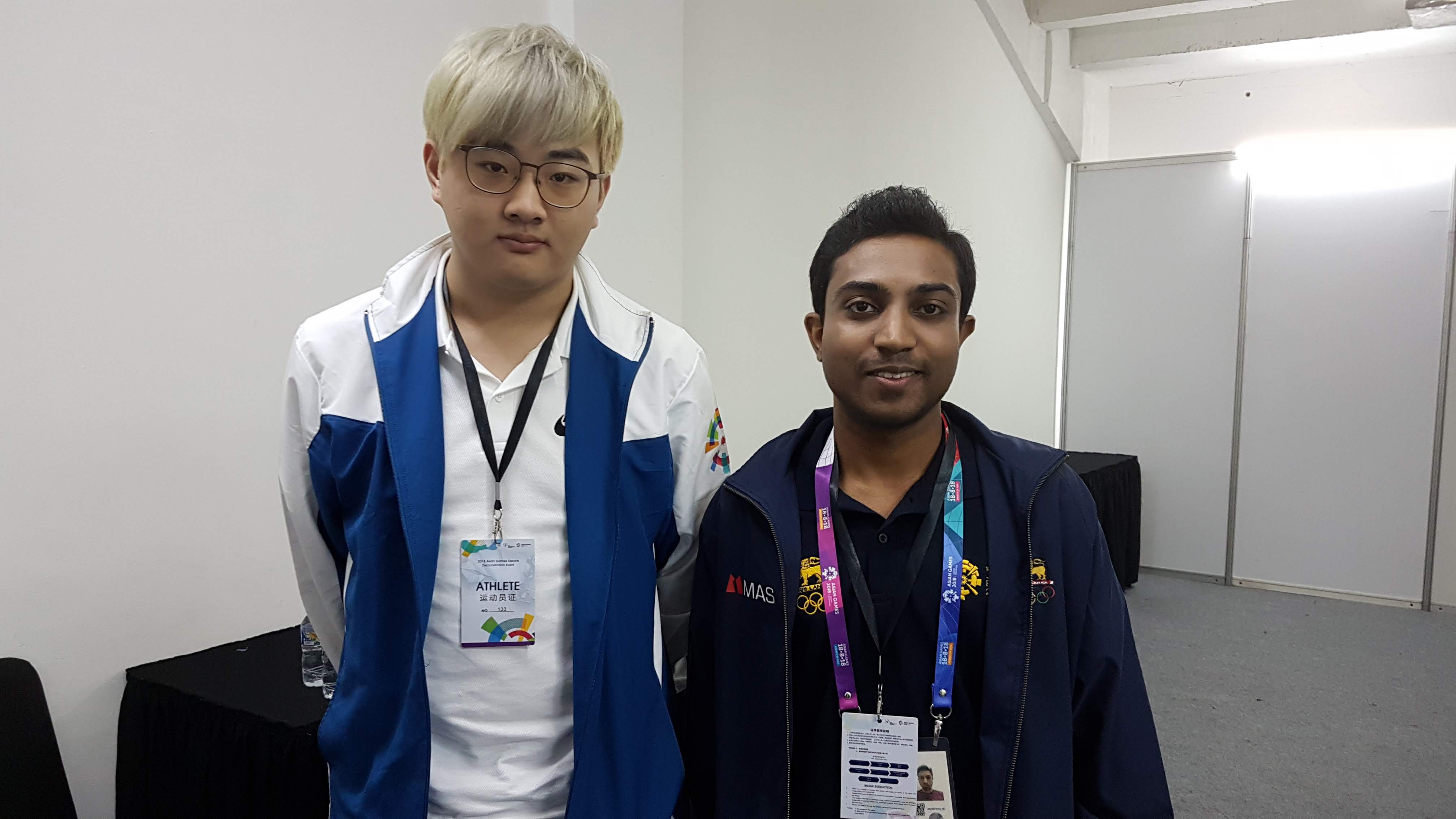 " Never expected that I'd represent Sri Lanka as its first Esports athlete and represent the South Asian region as well. It was just great to see Esports being recognised by the Olympic committee. Didn't think we'd come this far, this fast. Was an absolute honour and privilege to be surrounded by gold medal athletes! I even managed to meet the God of Starcraft 2, Maru! "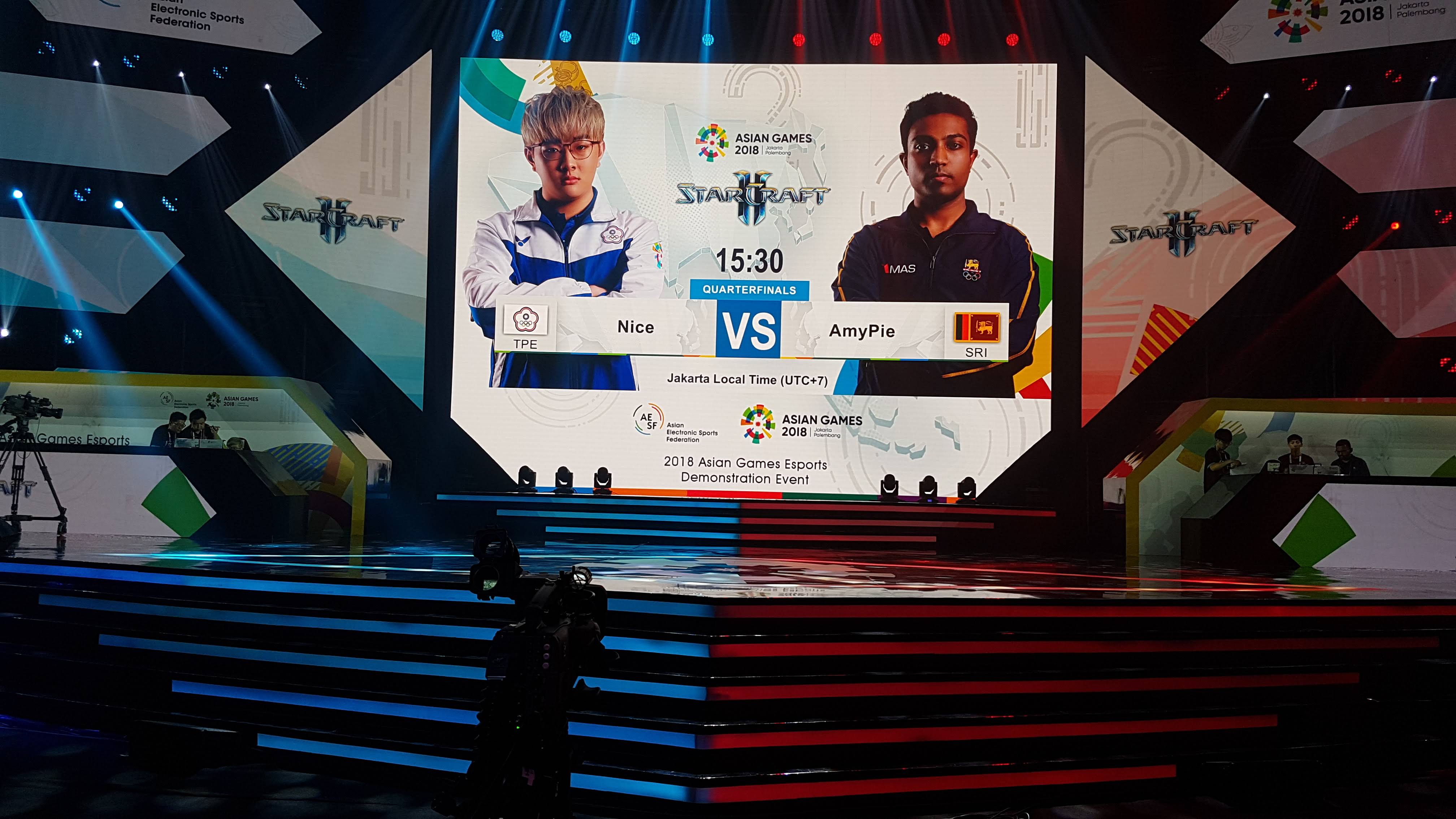 As for future plans and being Sri Lanka's first Esports athlete, Amruth plans to keep playing Starcraft 2 as preparation for the next Asian Games and play more competitive DotA 2 and Overwatch. He also intends on trying out League of Legends as the title was present at the Asian Games.
Amruth Alfred at the Asian Games 2018

Amruth Alfred from Sri Lanka went toe to toe against Taiwan and gave it his best, but was eliminated after a 3 round match. Taiwan went on to win the silver medal for Starcraft 2, coming in behind Korea who took gold. We're super proud of Amruths performance at Esports at the Asian Games and will be keeping an eye out for this rising Starcraft star!

Posted by Gamer.LK on Thursday, August 30, 2018