Gamer.LK Competitive Rules
Last modified: 03 DECEMber 2018
This page contains the game-specific rules for Gamer.LK Fortnite tournaments. These rules must be followed in conjunction with the General Competitive Rules of Gamer.LK Tournaments.
GENERAL COMPETITIVE RULES AT GAMER.LK TOURNAMENTS
The General Competitive Rules can be found here. The general rules listed there apply to all gaming titles and all teams/players who register for any Gamer.LK Competitive tournament are expected to follow them.
The tournament bracket used (single elimination/double elimination/group stage) will be decided by the Organizer and announced on the Tournament Announcement posted on Gamer.LK. The Organizers will make every effort to have a Best of 3 semi-finals and finals but depending on time constraints this may change at the discretion of the Organizers, in discussion with Gamer.LK. The Gamer.LK Ranking system will be used for the purpose of seeding to make the draws as and when needed. No other ranking will be considered.
2. TOURNAMENT COMMUNICATION
3.1. – By submitting a registration for a Gamer.LK Fortnite tournament, all players acknowledge without limitation to comply with the rules set herein and especially with the decisions made by the Gamer.LK Staff.
3.2. – All competitors are expected to know and understand all the rules described here. Not knowing that a rule existed or that it was in place will not be considered as an acceptable reason for breaking said rule.
3.3. – A player 's name, icon, profile picture or logo may not contain any of the following: profanities, obscene language, gang affiliation, drugs, sexual material, offensive material, slander of Gamer.LK or it's administration, partners or sponsors.
3.4. – Players are requested to bring a screenshot of their Settings page if they need to modify their keys and configurations. Additional warm-up time will not be provided for players who are unable to remember their keybinds or settings.
The tournament will be held on the Playground LTM or on Custom Matchmaking servers. 
5.1. – Players are expected to be present well in advance of their match at the venue.
5.2. – If by 10 minutes past the scheduled match start time a player doesn't show, the match will be deemed a walkover to the player that is present. 
5.3. – Gamer.LK and any Organizers will make every effort to inform players of scheduled match dates and times – but please note it is the responsibility of the players to check their game time and date. Gamer.LK or any Organizer will not be responsible to inform matches to players. Not attending a match due to not being informed of the schedule is NOT an excuse.
6.1. – Game Format
Both players will be given 5 minutes of setup time after which they need to join the same Fortnite party (or enter the Custom Matchmaking server key) and start finding a server. Any player not ready by the end of 5 minutes, may at the discretion of the Tournament Referee stand to forfeit the game.
6.2. – Match Format
A Best of 1 game series will be played to decide the winner of each match unless otherwise specified. Tournament Staff at their discretion may conduct a Best of 3 series for the finals and semifinals.
6.3. – Playground LTM Settings
The following settings must be used by the host.
– Shields: Full Shields
– Health: Full Health
– Drop Items When Eliminated: Off
– Fall Damage: On
– Gravity: Normal
– Time of Day: Day
– Player Names & Location: Always Hide
– Server Location: Singapore (may be changed at the discretion of Tournament Staff or if both players are in agreement)
6.4. – Use of text chat (before getting into the starting island)
Players are allowed to greet each other at the start and end of the match on text chat (i.e: GGWP, GLHF, etc) but should avoid talking about anything else. No foul language is allowed on the text chat and doing so may lead to the match being awarded to the opposing player and the offending player being disqualified from the match.
6.5. – Switching teams during the Starting Island
Players are not allowed to Switch Teams during the starting island.
6.6. – Starting Location
Players should land at the Challenge Games area only. They may not land anywhere else.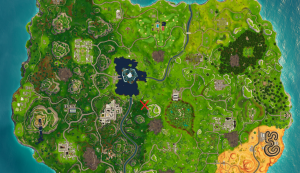 6.7. – Picking Weapons and Items
Players can pick up the weapons of their choice from the vending machines at the training ground or within Tilted Towers. Only weapons allowed in the list under Rule 6.13 can be picked up. All other items (utilities, explosives and traps) are banned. 
6.8. – Player Team Select
After picking their weapons from the Challenge Area, one player decided beforehand will need to Switch their Team. The other player will also need to select Respawn when this happens.
6.9. – Looting and Farming at Tilted Towers
Players are thereafter required to land at Tilted Towers. They are free to land on any buildings as they desire. They can loot Treasure Chests or pickup floor loot (limited to healing items only, no weapons can be picked) and farm for materials for upto 5 minutes after landing.
6.10. – Rules for Looting at Tilted Towers
Players cannot pick up any new weapons from Tilted Towers. Only weapons and rarities available at the Challenge Area are allowed to be used. Any player that picks up a weapon should immediately drop them. Only healing items can be picked up. There is no maximum material limit but the choice to pick up weapons or farm will be a crucial decision left to the player to decide.
6.11. – Inventory Format
Players can carry a maximum of THREE (3)  weapons only in their inventory. The remaining two slots should be used to carry healing items.
6.12. – Healing Items
Players can choose to carry any combination of healing items they pick up at Tilted Towers. Only healing items that are provided through Floor Loot or Treasure Chests can be used: Bandages, Chug Jug, Medkit, Slurp Juice, Small Shield Potion, Shield Potion. Using Mushrooms or Apples or Cozy Campfires are not allowed.
6.13. – Weapons and Items allowed
The only weapon categories allowed are Assault Rifles, Submachine Guns and Shotguns. The individual weapons in each category are as follows:
ASSAULT RIFLES
– Thermal Scoped Assault Rifle
– Scoped Assault Rifle
– Assault Rifle
– Burst Assault Rifle
– Suppressed Assault Rifle
– Heavy Assault Rifle
SUBMACHINE GUNS
– Submachine Gun
– Compact SMG
SHOTGUNS
– Double Barrel Shotgun
– Heavy Shotgun
– Pump Shotgun
– Tactical Shotgun

6.14. – Weapons and Items banned
All weapons and items excluding the above list are banned. The following is a non-exhaustive list of all the other weapons and items (including limited time items) for reference. Any new items that are not allowed above will also be considered to be banned even if not mentioned here.
– Minigun
– Hand Cannon
– Suppressed Pistol
– Pistol
– Six Shooter
– Bolt-Action Sniper Rifle
– Hunting Rifle
– Heavy Sniper Rifle
– Rocket Launcher
– Grenade Launcher
– Quad Launcher
– Fiend Hunter Crossbow
– Clinger
– Grenade
– Stink Bomb
– Dynamite
– Boogie Bomb
– Port-a-Fort
– Rift-To-Go
– Shockwave Grenade
– Grappler
– Port-a-Fortress
– Chiller
– Cozy Campfire
– Damage Trap
– Launch Pad
– Mounted Turret
– Balloons
– Bush
– Glider
– Infinity Gauntlet
– Jetpack
– Cake Slice
– Spiky Stadium
– Jewel
6.15. – Using Vehicles
The using of any vehicles (including but not limited to Shopping Cart, ATK or Quadcrasher) is not allowed.
6.16. – Moving to designated fight zone
After the end of 4 minutes (when the match time reads 51:00), players need to move towards the designated fighting zone – the road in front of the Clock Tower. Players are allowed to leave the drop region at any time during the 5 minute period to get to the designated fighting zone but they may not build any structures to buildings or build any structures independently or weaken any structures within the designated fighting zone.
6.17. – Build battle
When the match time reads 50:00 (the end of 5 minutes), the two players will face directly infront of each other from across the Clock Tower and start building a ramp facing in the opposite direction and adjoining each other. After a countdown of 3 seconds, both players will build 2 ramps upwards and turn after which they are free to fight. Players CANNOT turn around and shoot or build in any way until the 2 ramps are placed.
6.18. – Fighting before reaching designated fighting zone
Players may not shoot each other before 5 minutes. In the event of a mutual agreement between both players agreeing to fight before 5 minutes and the Tournament Staff being informed, this rule may be overriden.
6.19. – Winner
The winner will be the person who successfully kills the opponent. If noone is dead at the end of 10 minutes, the win will be awarded to the player with more health.
6.20. – Build Rules
Players should not deliberately edit each other's buildings. No player is allowed to build up to any buildings either.
7.1. – Abuses & Exploitation
Exploiting game or map bugs/glitches/flaws ("exploits") for the purposes of gaining an unfair advantage is prohibited. Exploits that are not specifically named here are still prohibited but will be dealt with on a case-by-case basis. Gamer.LK Staff reserve the right to decide what will be deemed as an exploit or abuse.
7.2. – Scripting
The use of scripts are prohibited.
7.3. – Use of Macros
The use of macros are prohibited.
7.4. – Use of Third Party Softwares
The use of any third-party addons, hooks, programs or wrappers that interact with or alter the client, its appearance or behaviour for the purposes of gaining an unfair advantage is prohibited. 
7.5. – Impersonations
Impersonating an eligible player by attempting to alias as them, using their Steam account or by any other method is prohibited and will result in the aliasing player and the player they are aliasing as being removed from the tournament. 
7.6. – In-game names
Each player must have his/her primary nickname or something very similar as his game name during all matches to be easily identifiable for referees, broadcasters, and viewers. What counts as similar is for the Gamer.LK Staff to decide. The only additional information allowed in a player's in­game name is clan tags or sponsor names. 
8.1. – Pauses
There will be no pauses in the game.
8.2. – Technical issues
Players should raise their hand and immediately contact Tournament Staff in the event of a Technical Issue. Staff will then assist to rectify the situation and restart the match if necessary. 
8.3. – Malicious Disconnects
If a player disconnects the game without informing the Tournament Staff, this will be considered as a malicious disconnect and the match will be awarded to the other player. Players must always inform Staff about technical issues and seek permission to disconnect. 
8.4. – Penalties on Breach
Any player who breaches any of the rules mentioned above will forfeit their game. This includes but not limited to, using banned weapons, building illegally, not moving out of the looting area, etc. 
8.5. – Match Interruptions & Crashes, Bugs
The following rules only apply if a match is involuntarily interrupted due to a player crash, server crash, network failure, power failure, etc. These apply only to a LAN setting where such situations can be verified by Gamer.LK Staff.
– If a player's PC crashes or a player disconnects, the game must be restarted from the beginning.
– If multiple players disconnect, the server crashes or lobby shuts down or network fails the game must be restarted from the beginning.
– In the event of a time issue, Gamer.LK Staff will decide accordingly.