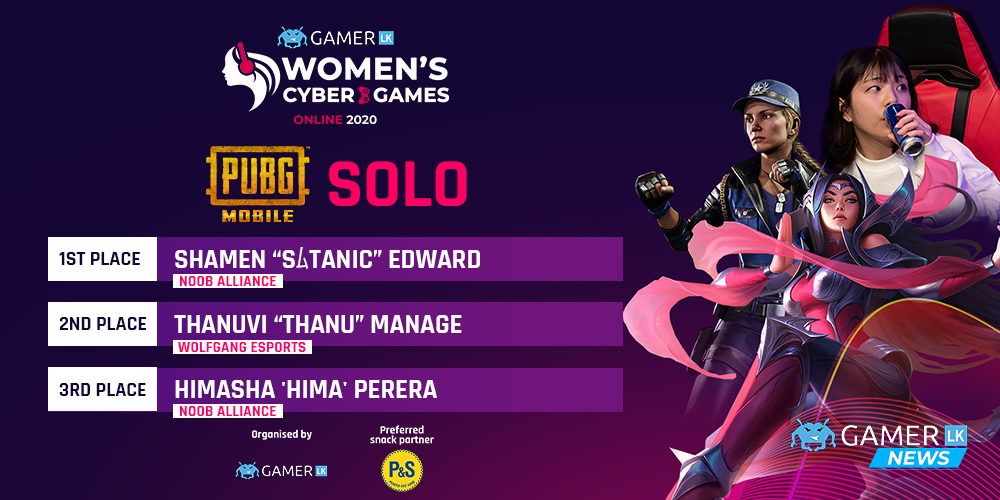 The Women's Cyber Games PUBG Mobile Solo tournament saw fierce competition among the ladies who took part across three maps - Erangel, Sanhok and Miramar. Players had to undergo a comprehensive verification process after which the matches were played and scores...
Tournaments and Competitions
Upcoming & ONGOING events
These are the starting dates of the tournaments only. Please check the individual events for exact duration of events. Due to the ongoing Coronavirus (COVID-19) outbreak we have restricted organising LAN events for the time being. Subscribe to our full calendar here to stay updated with our events.
Sri Lankan Rankings
Endorsed by Sri Lanka E-Sports Association (SLESA)
1

n00b Alliance Spite
2099
Last updated: 3-Sep-2019 (after Wolfgang Hunting Grounds 2019)
1

Phoenix Gaming Indomitus
2246

2

Xiphos eSports Victorious Secret2036


3

Division eSports Death Sentence 1955


4

Noob Alliance BedTime Samurais1841


5

Noob Alliance Infinity Gaming1812

Last updated: 18-Apr-2019 (After BOTMG Season 4)
1

Xiphos eSports ZeGg
2009

3

M-eS-Revolutionary Gamers1727

Last updated: 25-May-2019 (After SLCG'18)
Latest videos from the Gamer.LK youtube channel
Latest gaming and Esports news in Sinhala. New episodes each week on Saturday at 10:00 a.m. EXCLUSIVELY on the GLKtv YouTube Channel.
Mercantile Esports Championship 2019 Trailer
Mercantile Esports Championship 2019 will be held on 9th and 10th November, with the Grand Finals on 1st December 2019 at Stein Studios.
Acer Predator League 2019 Sri Lanka
Look back at the action from the Acer Predator League 2019 Sri Lankan qualifier held between December 2018-January 2019