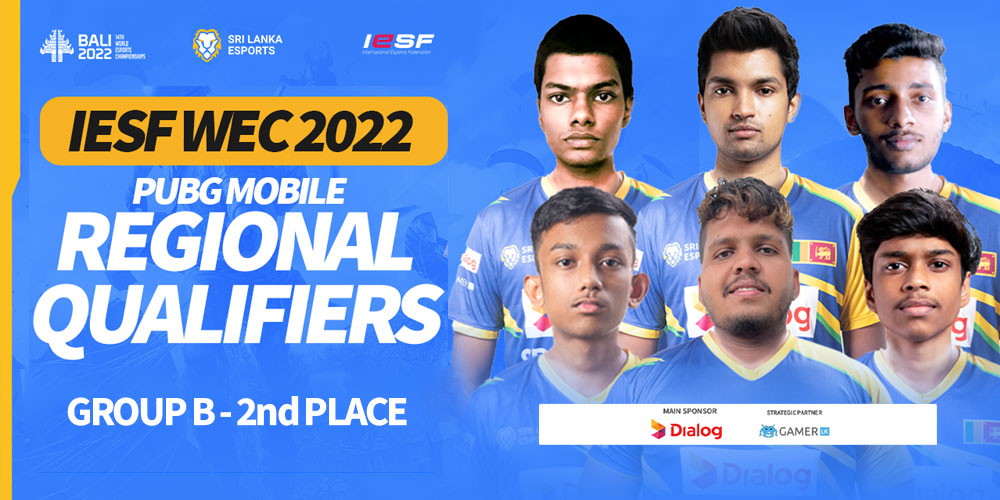 Sri Lanka Esports National PUBG MOBILE team makes it to the qualifier finals at the 14th World Esports Championship 2022 after an exceptional performance in the group stages. After 3 matches, the national team scored a total of 43 kills which is the highest kill score...
Tournaments and Competitions
Upcoming & ONGOING events
These are the starting dates of the tournaments only. Please check the individual events for exact duration of events. Due to the ongoing Coronavirus (COVID-19) outbreak we have restricted organising LAN events for the time being. Subscribe to our full calendar here to stay updated with our events.
Sri Lankan Rankings
Endorsed by Sri Lanka E-Sports Association (SLESA)
1

n00b Alliance Spite
2099
Last updated: 3-Sep-2019 (after Wolfgang Hunting Grounds 2019)
1

Phoenix Gaming Indomitus
2246

2

Xiphos eSports Victorious Secret2036


3

Division eSports Death Sentence 1955


4

Noob Alliance BedTime Samurais1841


5

Noob Alliance Infinity Gaming1812

Last updated: 18-Apr-2019 (After BOTMG Season 4)
1

Xiphos eSports ZeGg
2009

3

M-eS-Revolutionary Gamers1727

Last updated: 25-May-2019 (After SLCG'18)
Latest videos from the Gamer.LK youtube channel
Predator Helios 300 Gaming Laptop review
Review of the latest gaming laptops, mobile phones, peripherals and other hardware devices EXCLUSIVELY on GLKTV.
Women's Cyber Games Online '20 Trailer
Gamer.LK presents the Women's Cyber Games '20 Online championship with 11 titles for girl gamers to compete in.
Games streamed live daily on GLK Esports TV
A live programming web TV channel on streamed on Facebook, YouTube and Twitch. Catch the latest gaming and Esports action.